Prof. Dr. Ulrike Bingel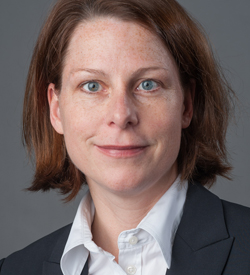 Clinic for Neurology
University Clinic Essen
Hufelandstr. 55
45122 Essen
Germany
Email: This email address is being protected from spambots. You need JavaScript enabled to view it.
www.uk-essen.de/clinical_neurosciences_bingel/
Ulrike Bingel is Professor at the Clinic for Neurology at the Medical Faculty, University of Duisburg-Essen, Germany.
Until June 2013 Ulrike Bingel has been a consultant of Neurology and head of a research group on pain and cognition that is funded by the German Federal Ministry of Education and Research and the German Research Foundation, at the University Medical Center Hamburg-Eppendorf.
Dr. Bingel studied medicine at the University of Essen. Since 2001 she is primarily located at the University of Hamburg where she completed her residency programme of Neurology and worked as a postdoctoral research associate at the Department of Systems Neuroscience.
In 2008/2009 she joined the Pain Imaging Neuroscience (PaIN) Group at the internationally reknown Oxford Centre for Functional MRI of the Brain (FMRIB) lead by Prof. Irene Tracey as a visiting postdoctoral research fellow. Since then she has been the head of the Outpatient Pain Clinic of the Department of Neurology and is leading her research group that is funded by multiple sources (BMBF, DFG, and industrial support).
Dr. Bingel's research focuses on systems neuroscience and particularly on the interface between pain processing of the central nervous system and cognitive neuroscience. Her work has revealed critical insights into the neurobiological basis of placebo and nocebo responses, their interaction with active pharmacological treatments and implications of these findings for clinical practice.